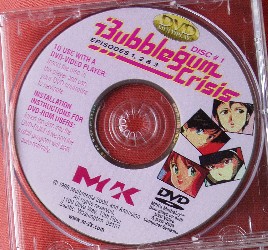 In the aftermath of the great earthquake, one ruthless corporation stands ready to take over the devastated city of Tokyo with an army of synthetic monsters. Only a single band of female vigilantes opposes the monolithic power of Genom - but in this case, four women are all it takes! Armed with the most incredible combat suits ever designed, the Knight Sabers wage a desperate war in the shadows, combating the monstrous by-products of technology run amuck with courage, sweat and blood! Breakneck action combines with state of the art animation and a hard-driving rock soundtrack in the series that redefined the cutting edge and proved "Cyberpunk's Not Dead." Don't miss the excitement as the Bubblegum Crisis Tokyo 2040 Perfect Collection explodes onto DVD.
This is the OVA series I have watched,in total around 310min, containing eight episodes:

1: Tinsel City, approx 48min.

2: Born to kill, approx 25min.

3: Blow up, approx 25min.

4: Revenge road approx 25min.

5: Moonlight rambler, approx 45min.

6: Red Eyes,approx 48min.

7: Double vision, approx 45min.

8: Scoop Chase,approx 49min.

Hannah's comments: Sci-fi on high level! Do not take a breath or break, you might miss the story and action!! Even there is some sort of a complot between the government and a big famous scientific company, with giant "un-destroyable" robots, the series is cute in a way. Four women can fight those powerul creatures, made by human scientists. When the background music getting stronger, you know there will be a fight soon. Once in a while there are sadness and tears. Sometimes also happiness and harmless teasing, emotion things are included!! Liked the motorcycle racing, and how the girls (well, around 18-30 years?) could handle the biking so good! I'm glad I watched the series on DVD. The DVD was so new by that time, no nice keepcases for DVD, just plastic CD-case for each of them. A kind of agentstory.It's definitely worth watching. I'll guess I will see the other, "new" Bubblegum Crises.